A shortened version of this piece appears in the book 1001 Beers You Must Try Before You Die (May 2010).
ABV: 7%
Origin: Ninove, Oost Vlaanderen
Website: www.witkap.be
First brewed: 1929
Serving temperature: 8-10°C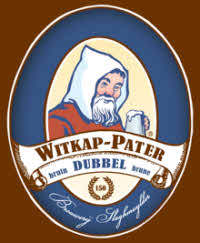 The Witkap beers are the oldest surviving examples of the abbey beer style, predating more famous brands like Leffe and Grimbergen by decades. Although unlike these two they've never been linked officially to any religious institution, they can claim a lineage going back to the famous Trappist brewery of Westmalle. Here their inventor, Hendrik Verlinden, self-taught author of a textbook on yeast cultivation, perfected his brewing skills before World War I. In 1916 Verlinden struck out on his own by buying the Drie Linden (Three Linden Trees) brewery, founded in 1890 at Brasschaat near Antwerp. Inspired by the products of his previous employers, he began work on developing his own Trappist-style beer. He named it Witkap, "white cap", cleverly linking a reference to the white cowls of the Cistercian order of monks from which the Trappists developed with the luscious head of the beer itself.
 Back then control of trademarks and appellations was in its infancy and Verlinden marketed his product as "Trappistenbier", a dubious practice followed by many later brewers until pressure from consumers and Trappist monasteries resulted in the designation "abbey beer" for monastic-styled but secular-brewed ales in the 1980s. By then production at Brasschaat had long since dwindled and in 1979 Drie Linden contracted the brewing and bottling to Slaghmuylder, an 1860-vintage family brewery at Ninove in East Flanders which, until then, had been best known for its lagers. Two years later Slaghmuylder gained full rights to the brand and extended the range to include a double, a triple and a blond. All are unspiced ales fermented quickly at 25°C, cold matured in tanks then further conditioned in the bottle. The brewery recommends pouring the double carefully to leave the yeast in the bottle then tasting with Belgian chocolate desserts – heavenly enough for me.
Tasting notes
A dark ruby-brown beer with a rich soft fawn head and a figgy, fruity, slightly winy aroma. A powerful palate has sweet-sour fruit, cedar, fresh marmalade, tobacco, liquorice and toffee, with a long, rounded, lightly drying angelica and smoke-tinged finish.
Buy the book from amazon.co.uk
Read more about this beer at ratebeer.com: http://www.ratebeer.com/beer/witkap-pater-dubbel/5395/