Beer sellers: Zlý Časy / Pivkupectví
Top Tastings 2010
ABV: 6.2%
Origin: Broumy, Středočeský kraj, Czech Republic
Website: www.pivovarmatuska.cz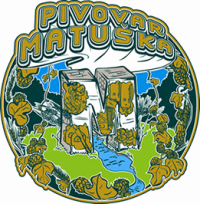 One of a small but growing number of innovative new microbreweries challenging the dominance of straightforward pale and dark lagers in the Czech Republic, Pivovar Matuška was founded only in 2009 but has already caused ripples internationally with its eclectic range of quality beers. It's run by Martin Matuška and his son Adam from an outhouse in the family home in a small village not far from Beroun in Central Bohemia.
Martin has worked abroad including in the US, and the influence shows: besides more familar lager styles the brewery produces gems like this American-tinged IPA, although the brewery insists it owes as much to English inspiration.
It's a pretty amber colour with an unfiltered haze and a thick, creamy yellowish head. There's telltale grapefruit notes of Cascade on the aroma, and the thick malty palate is very soft and lightly chewy, with a gentle thistly and citrus note. A spicy finish has hints of mint and grapefruit and a lengthy, soothing quality that seems typically Czech.
Read more about this beer at ratebeer.com: http://www.ratebeer.com/beer/matuska-raptor-ipa/123352/