London's Best Beer, Pubs and Bars
Best beer and travel writing 2015 — British Guild of Beer Writers Gold Award
The fully revised, updated and improved 2nd edition of my award-winning book, The CAMRA Guide to London's Best Beer Pubs and Bars, was published by CAMRA Books on 2 July 2015.
"Probably the best book about beer in London" — Londonist
"A joy to read and will be my constant companion" — Roger Protz
"If you live in London and like beer, get a copy" — Boak & Bailey
"Meticulously researched and open-minded" — Independent
"A detailed and accessible treasure-chest of information" — Jeff Evans
"Rarely does a book appear that stands so much above other books as this guide" — PINT Magazine
Order from CAMRA Shop
Order from Amazon

Download the March 2016 online update (PDF)
March 2016 news story: in the shadow of the multinationals
Launch events and tastings
Time to toast London's Best Beer: a reflective blog post
Visit and like the Facebook fan page
Follow @LdnBestBeer on Twitter
Read more on the CAMRA Books page
London is once again one of the best beer cities in the world, and London's Best Beer sets out to provide the complete and indispensable guide to its beery treasures. Historically a brewing colossus and long renowned for its great pubs, this great city has in a matter of years reclaimed its status as a world class centre for making beer as well as drinking it. The book directs both the beer beginner and the connoisseur to the best places in which to experience London's miraculous local beer renaissance alongside brewing excellence from the rest of the UK and, indeed, the world. Importantly, it also details London's growing band of brewers and sets the contemporary beer scene in the context of the city's rich culture, history and brewing heritage.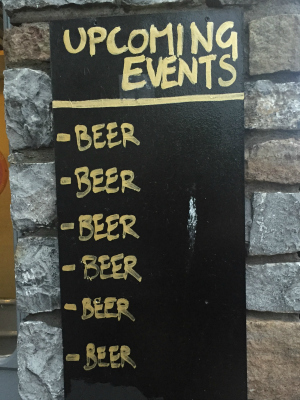 Read the updated London brewers list
Read about London brewers in 1971
In search of the lost London beer style
More about the book
This fully illustrated full colour volume includes:
260 detailed listings of recommended places to drink and buy beer, including specialist pubs and bars, brewpubs, brewery taprooms and bottle shops, with over 100 additional 'try also' mentions
a complete directory of over 70 London breweries plus non-brewing beer firms with brief notes on beer ranges, plus selected brewer interviews and extended features on key producers
London beer styles guide with recommendations and tasting notes
Background notes on the history and heritage of London brewing
Extensive maps and transport details
The beer scene in London has changed so much since the first edition of this book was published in July 2011 that this edition is pretty much an entirely new book. Of the 252 places to drink listed in 2011, only 100 are still listed in 2015, some of these under different names and/or new management; all have been revisited and their details checked and revised. Everything else has been heavily revised or rewitten afresh, with much new material, so if you bought the first book, I strongly recommend you upgrade to this one!
"Probably the best book about beer in London…This is not merely a guide on where to drink, it's a guide on how to, and why Londoners drink like they do." — Will Noble, Londonist. Read full review.
"A superb book, beautifully designed…The book is a joy to read and will be my constant companion on visits to the capital." — Roger Protz, Publican's Morning Advertiser. Read full review.
"More than just a list…packed full of interesting essays…If you live in London and like beer, you should certainly get a copy." — Boak & Bailey's Beer Blog. Read full review.
"There's a lot of good beer to be found [in London], particularly if you've got something as meticulously researched and open-minded as de Moor's new book to hand." — Will Hawkes, Independent. Read full article.
"A thorough and considerate job…delivering a detailed and accessible treasure-chest of information that is far more than just a list of places to drink…impressively designed to pack in a wealth of detail without bamboozling the reader." — Jeff Evans, Inside Beer. Read full review.

"I don't believe a more comprehensive and easy to use guide has ever been written for any city on any subject anywhere. In short, this guide definitely raises the…what's the word?" — Alec Latham, Mostly about beer. Read full review.
"Rarely does a book appear that stands out so much above other books as [this guide]…I travel to London every year and I thought I knew what was happening on its beer scene. Apparently not. But now I do, thanks to Des de Moor's new book." — Theo Flissebaalje, PINT Magazine (Netherlands).
Tweets by @LdnBestBeer


London's Best Beer on Facebook

A great place to read the latest news and reviews and check out the events listings. Your likes and comments are appreciated.
Additions and updates
All books of this kind go out of date the moment they're published and to help keep the guide as current as possible, I'm once again issuing periodic updates as downloadable PDFs.
Download the March 2016 update here including reviews of numerous newly-opened places to drink, new brewery details and corrections  The next update will be published in time for London Beer City and the Great British Beer Festival in August 2016.
See also my London brewers page which is regularly updated.
You can help by suggesting additional places to drink, along with any other comments and feedback you might have. Please read my guidance notes (PDF download) before making suggestions. You can use the online form below or if you have problems include the required information in an email to des@desdemoor.com.
Festivals and events
See below for a regularly updated guide to beer events and festivals in London and southeast England courtesy of Steven at www.aletalk.co.uk. Please also go to aletalk to report errors or new festivals as I'm not responsible for the contents of the calendar.
Past launch and promotional events
25 June 2015 Official launch, signing and London beer tasting at Blackwells Bookshop, Holborn
3 July 2015 Signing at Truman's Brewery yard party
8 July 2015 Signing and London beer tasting at Chelmsford Summer Beer and Cider Festival
9 July 2015 Signing at Ealing Beer Festival
11 July 2015 London brewers tap takeover signing at the Cock Tavern
12 July 2015 Berliner Weiss-Off sour beer festival signing at Mother Kellys
26 July 2015 Food and beer safari and signings at Borough Market Food Meets Beer Festival
12 August 2015 Signing at Great British Beer Festival
13 August 2015 Signing and London beer tasting at Great British Beer Festival
11 September 2015 Beer tasting and signing at Ludlow Food Festival
13 September 2015 Beer tasting and signing at Green Man Welsh Beer Festival, London
2 December 2015 Signing at Pigs Ear Beer Festival, London
26 February 2016 Talk and signing at Craft Beer Rising, London
3 March 2016 Signings at London Drinker Beer Festival
24 April 2016 Signing at Zythos Bierfestival, Leuven
12 August 2016 London beer tasting and book signing at Great British Beer Festival
About the first edition
Winner of the British Guild of Beer Writers Budweiser Budvar John White award for best travel writing 2011. Read more here.
"Capturing the feel of each pub with vivid descriptions…this book is a necessity if you're a beer geek heading to London Town" — Beer Advocate
Read reviews:
by Jeff Evans at Inside Beer
by Susanna Forbest at DrinkBritain
by Simon Johnson at Reluctant Scooper
by Robert Gale at Travels with Beer
Read my guest blogs at View London:
Ten top contemporary British beers and places in London to drink them.
Ten top London beers and places to drink them.
Ten great places to drink near London 2012 venues.
Jubilee Walkway by pub Part One
Read about my selection of London beers for BEER magazine.
Read more about the process of writing the book here, and in the May 2011 British Guild of Beer Writers Newsletter.
More about revisiting London's Best Beer (June 2014)