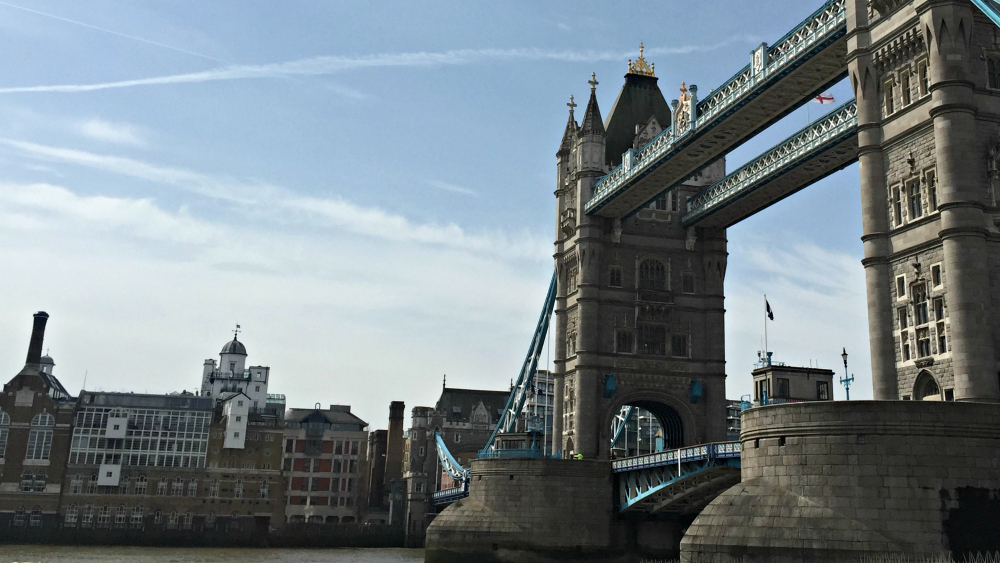 Enjoy a guided pub tour or beer tasting in the company of an expert.

As an accomplished and experienced walk and tour leader, public speaker and Accredited Beer Sommelier, I can offer:

Stay in touch with news of tours and tastings: subscribe using the link top right or use the subscribe page here.

Enjoyed one of my tours or tastings? Then leave a review on TripAdvisor here.
Beer and brewery heritage walks
Southwark Ale and Borough Beer: a brewery heritage and beer tour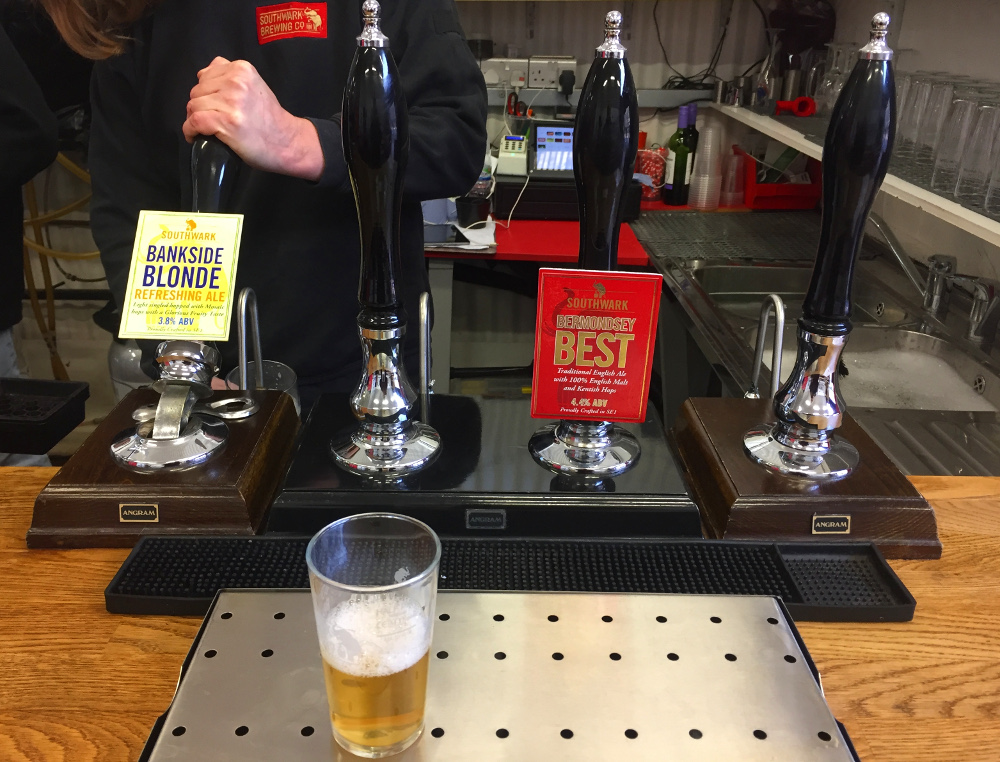 Discover Southwark's beery past and present on this fascinating short evening walking tour, including important heritage sites and a visit to a working brewery with beers included.
Hear how Southwark ale loosened the tongues of Chaucer's pilgrims, discover how London brewers revolutionised the industry on the original site of Shakespeare's Globe, admire the splendour of the Victorian Hop Exchange, find a dray horse amidst the winding streets of Dickens' Jacob's Island, wonder at the industrial grandeur of the old Courage brewery and get some of best views of iconic Tower Bridge and the Thames, once the heart of the world's biggest port. End with a brewhouse tour and a pint of fine cask ale at one of the new generation of Bermondsey breweries.
The tour begins in the Borough at 1830 hrs, and finishes at approximately 2030 hrs at Southwark Brewing, a short walk from Tower Bridge. Total walking is 2½ miles (4 km) Maximum group size is 15 and beers at Southwark brewing are included in the ticket price of £22 per person (plus a modest booking fee).
Forthcoming dates:
Thursdays 5 and 19 April 2018
Every Thursday from 10 May t0 25 October 2018
Book online at Design My Night.
All tours can be run as private tours at other times for pre-booked groups: see below.
City sips and Holborn halves: a London pub heritage and beer tour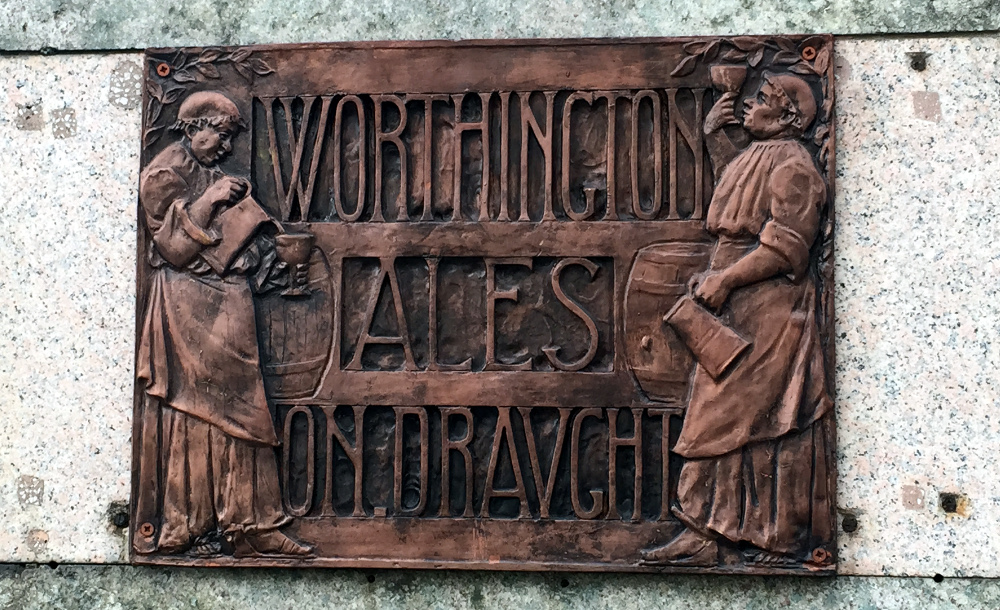 A very special and intimate historic pub and beer tour in a fascinating part of London with a small group.  It explores the exceptional pubs and hidden corners of the historic part of London between Holborn Viaduct and Blackfriars Bridge, on the banks of the long-covered river Fleet, including Legal London, Fleet Street and the western edge of the City. We pause in four great pubs serving excellent beer including traditional English cask and more contemporary styles, mostly recognised heritage pubs with exceptional interiors. We'll also glance at more historic pubs along the way, as well as numerous other picturesque and interesting sites with historic, literary and architectural interest. You'll even get to hear the river Fleet — something even most born-and-bred Londoners haven't done.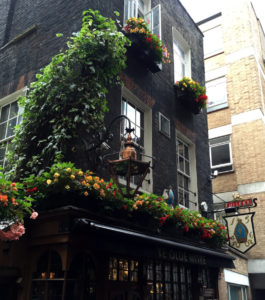 Total walking on this tour is around 2 miles (3 km). We start at Chancery Lane Underground (Central Line) at 1400 hrs, and finish at approximately 1700 hrs right by Blackfriars station (District and Circle Lines, National Rail). Maximum group size is eight, and tickets at £30 each (plus a modest booking fee) include a half-pint of beer in each of the pubs.
Forthcoming dates:
Thursday 5 April 2018
Thursday 10 May 2018
Thursday 7 June 2018
Thursday 5 July 2018
Thursday 2 August 2018 (London Beer City)
Thursday 6 September 2018
Thursday 4 October 2018
Book online at Design My Night.
All tours can be run as private tours at other times for pre-booked groups: see below.
Porters, Peers and Pilgrims: the flagship brewery heritage walk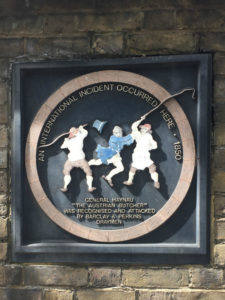 For those who want to discover the brewing heritage of the former world capital of brewing in detail, this is the walking tour to choose. View the surviving Victorian splendour of Whitbread and the original Truman's, discover where porter was first perfected, cross iconic Tower Bridge with views of Courage's Anchor Brewhouse, see where brewers got rich beyond the dreams of avarice on the former site of Shakespeare's Globe, and end with a pint at the Borough's last coaching inn, near London Bridge and numerous other beer venues. Celebrate London's beer renaissance by reminded yourself of its illustrious brewing past.
The walk is about five miles (8 km) at an easy pace with a group of up to 15 people and takes about three hours. Note this walk visits heritage sites, not working breweries, and no drinks are included. Tickets are only £12 per person, plus a modest booking fee.
Forthcoming dates:
Sunday 18 February 2018 1030 hrs
Sunday 22 April 2018 1030 hrs
Sunday 17 June 2018 1030 hrs
Sunday 5 August 2018 1030 hrs: London Beer City week.
Sunday 21 October 2018 1030 hrs
Thursday 27 December 2018 1030 hrs: Festive escape special!
Book online at Design My Night.
All tours can be run as private tours at other times for pre-booked groups: see below.
Stay in touch with news of tours and tastings: subscribe using the link top right or use the subscribe page here.
Private heritage pub tours and tastings
Visiting in London in a group, something to celebrate or just know others who will be interested? Then why not book a private tour, with your own friends at a time agreeable to you.
Top choice for a private tour is my City Sips and Holborn Halves tour listed above. You'll visit four great pubs over three hours and enjoy a half-pint in each, with beer recommendations and a personal tutored tasting if required.
This tour runs weekday afternoons only starting at 1400 hrs. Later starts are really only practical early in the week as pubs can get very busy: please enquire.
Cost: from £230 including taxes and drinks for a group of up to six people.
The size of the pubs partly limits the group size, though we can manage up to eight people at additional cost. We may also be able to manage larger numbers by splitting into more than one group with an additional guide: please enquire.
To enquire about a potential date please contact me at des@desdemoor.com.
All the other walks listed on this page are also available as private tours, and I have other itineraries too. For example Bermondsey brewers on Saturdays; a beautiful walk taking in pubs and breweries around Brixton and Brockwell Park; a beer tour of the South Bank; and a tour of Hackney Wick and the Olympic Park. Or I can devise an itinerary with a location and theme to suit your requirements. I can even advise on beer and brewery tours in other UK cities.
I also regularly lead brewery tours for London Brewery Tours, Sentire Experiences and others.
More beer and brewery tours in London:
Tutored beer tastings
A tutored beer tasting in the company of an expert is a great way of enhancing your appreciation of beer, discovering more about the astonishing range of beer styles, flavours and aromas. how brewers conjure such diversity from simple ingredients and how to match beer with food. An ideal activity for pubs and bars, restaurants, beer and food festivals, clubs and societies and private and corporate events.
I've devised and hosted tutored tastings at a wide range of events and venues including the Great British Beer Festival, the BBC Good Food Show, Craft Beer Rising, Taste of London, Borough Market, Ludlow Food Festival, Foodies Festival, Bierfestival Groningen and many more.
Forthcoming public tastings and other events
Booking essential: please follow the links below.
Tastings at your venue or event
I can devise a themed tasting to suit your needs. I recommend focusing on no more than six beers. Some suggestions are:
Beer and cheese. A simple and popular introduction to beer and food matching: forget cheese and wine parties, as cheese is the perfect partner to beer, and easily served.
Belgian beer. You'll be astonished at the dazzling variety of beers from the country that still leads the brewing world, from sour lambics and brown ales to big  monastic barley wines.
London beers. Discover some of the very best beers from the UK's most dynamic beer scene, and learn about the capital's illustrious brewing past as well as its present.
Classic styles. What's the difference between an ale and a lager? And between a porter and a stout? And why do they all taste so good? Find out in my tour of essential beer styles.
My services include:
Selecting beers and food matches if applicable.
Sourcing beer and food if required. Alternatively, you can do this yourself, or, at a bar or festival, choose from the beers already available.
Advising on logistics and service.
Hosting the tasting itself. For six beers, allow 90 minutes to two hours, though tastings can be adapted to suit the available time slot.
You will need to find a venue and provide assistance with beer service. I can sometimes recommend suitable venues if required.
Cost: Subject to agreement but typically £230 per tasting, excluding travel and subsistence expenses outside London, cost of beer and food, venue etc. Discounts negotiable for charities and not-for-profits, including CAMRA branches.
Professional services
I can provide various additional services including:
Talks, presentations and readings
Beer appreciation training
Beer and food matching
Beer lists and menus
Beer judging
Copy writing and tasting notes
Advice and consultancy
My extensive experience as a beer judge includes:
Atlanta Cask Ale Tasting, Georgia, USA, guest judge 2017.
The Beer Awards UK, judge captain 2016, 2017.
Best Beer in Ireland, Killarney, Ireland, judge 2015, 2016, 2017.
Het Beste Bokbier van Nederland, Amsterdam, Netherlands, judge 2013.
Birra dell'Anno, Rimini, Italy, judge 2012.
Brussels Beer Challenge, Brussels, Belgium, judge 2016.
Champion Beer of Britain, London, UK, bottle conditioned beer judge 2012; final round judge 2013 and 2014; Southern England heats judge 2016.
Champion Beer of London, London, UK, judge 2017.
Fuller's Cellarman of the Year, London, UK, guest judge 2012, 2016.
Great American Beer Festival, Denver, Colorado, USA, judge 2013, 2015, 2016, judge captain 2016.
International Beer Challenge, London, UK, judge annually 2008-10, table captain annually 2011-17.
Sainsbury's Great British Beer Hunt, London, UK, judge in predecessor Beer Competition 2009, guest judge in regional heats 2011.
Tesco Drinks Awards, London, UK, judge 2007, 2008.
UK National Homebrew Competition, Bristol, UK, industry judge 2011, 2012.
World Beer Awards, Norwich, UK, European and international rounds judge 2012, 2013, 2014, 2016.
World Beer Cup, Brewers Association, USA, judge 2014 and 2016, invited 2017.