ABV: 11%
Origin: Ashford-in-the-Water, Derbyshire, England
Website: www.thornbridgebrewery.co.uk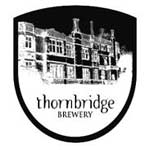 Thornbridge is currently one of the most exciting and innovative breweries in Britain, complimenting a range of high quality cask ales with a selection of bottled specialities including fine India Pale Ales and Imperial Stouts and the unclassifiable dark honey beer Bracia. It arose from a collaboration with Sheffield's Kelham Island brewery at stately home Thornbridge Hall, originally to provide own-brand beer to sell to visitors. It was soon earning a string of awards, and gave a launch platform to Martin Dickie, one of those since responsible for creating the headline-grabbing BrewDog brewery in Aberdeenshire. At the end of 2009, Thornbridge expanded to a new site in Bakewell though brewing still takes place at the hall. 
Thornbridge's place on the rapidly developing international craft brewing circuit is demonstrated by Alliance, a remarkable limited edition that emerged from a collaboration with boundary-pushing Italian head brewer Stefano Cossi and one of the world's most famous brewers and leading advocate of beer and food matching, the ever-globetrotting Garrett Oliver of New York City's Brooklyn brewery. In March 2007 the pair brewed a barley wine at Thornbridge specifically for barrel ageing, dosing it with champagne yeast to achieve a high gravity. Some of the resulting beer was matured for 18 months in madeira casks, some was matured for a similar time in refill Pedro Ximinéz sherry casks, while a "control" portion was matured conventionally for comparison.
All three versions were bottled in August 2008, bottle conditioned in champagne-style half bottles like a fine gueuze. I was dead pleased to receive a full set for review when they were finally released in April 2009 — it's not often you get the chance to taste the results of such an experiment from such a reliable source at your own leisure.
The non-wood aged version, simply called Alliance Reserve, is a fine beer in its own right. It's amber, with a fine lacy off-white head, and sour plums, bitter herbs and fruity balsamic vinegar notes on a toasty amber malt aroma. There's a smooth, malty and very fruity palate with dark oily marmalade and lighter citrus flavours to shock the tongue, a savoury note, toffee and whiskyish retronasals. A very satisfying fruity-malty finish has a bite of hops and lingering chewy resins.
Alliance Madeira Reserve is recognisably the same beer but adds an obviously wood aged dimension. It's similarly amber though my sample was cloudier than the plain Reserve, and has a thick yellowy-white head. There's wood and wine notes on a mellow casky aroma with notes of whisky and salt. The palate is big and complex with hops rumbling over a sweetish winy background, and a lightly acidic pippy hint, perhaps from the maturation, perhaps from something that intruded during bottling. Wood and toffee flavours spring up on the swallow, and there are vanilla notes and warming alcohol on the fruity-malty finish, ending after a long development with the dryness of sucked wood.
The sherry cask version, labelled Alliance PX Reserve, emerges as the best of the three, with a lustrous but mellow balance and a heady brew of complex flavours that knocks it up into world class. This amber beer with a fine white head has a mellow but estery fruit salad, sherbet and hop aroma. A rich and soft malt palate has figgy fruit, buttery tones, brazils and walnuts, vanilla, woody notes and a distance dance of hops. The bitterness notably steps forward on the tongue-drying finish, but still balanced by satisfyingly dense malt and fruit. A truly fine beer that's perfect for lengthy savouring.
Read more about these beers at ratebeer.com:
http://www.ratebeer.com/beer/thornbridge-alliance-reserve-2007/98859/
http://www.ratebeer.com/beer/thornbridge-alliance-madeira-reserve-2007/98780/
http://www.ratebeer.com/beer/thornbridge-alliance-px-reserve-2007/98778/