As well as a beer writer and expert I'm an accomplished and experienced public speaker, presenter, trainer, organiser and walk/tour leader. I'm always delighted at opportunities to use these skills by sharing my knowledge of and enthusiasm for great beer and beer culture in person.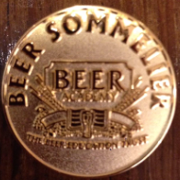 In September 2016 I was awarded the coveted Beer Sommelier accreditation by the Beer Academy, part of the Institute of Brewing and Distilling (IBD).
In addition to my own public and private beer and brewery walks and tours, I'm proud to work with UK Brewery Tours leading their popular Bermondsey and Wild Card brewery tours.
Services I can provide include:
Tutored tastings
Brewery and pub walks and tours
Presentations and readings
Beer appreciation training
Beer and food matching
Beer lists and menus
Beer judging
Copy writing and tasting notes
Advice and consultancy
Among other venues I've presented on beer and hosted tutored tastings and tours for at:
BBC Good Food Show
Borough Market
Craft Beer Rising (London and Glasgow)
Great British Beer Festival
Groningen Bierfestival
Hop Burns and Black
ING Bank
London Beer City
The Ludlow Food Festival
Seeability
I'm happy to work with breweries, pubs and bars, shops and online retailers, festival and event organisers, clubs and organisations and also private individuals. How about celebrating a birthday or other occasion with a tutored tasting or a beer walk or tour?
Rates are negotiable and I'm pleased to give a discount for CAMRA branches and other EBCU organisations.
Please email me at des@desdemoor.com for details.
Beer judging
I have extensive experience of judging in beer competitions, as follows:
World Beer Cup,  Brewers Association, USA, judge 2014 and 2016.
Great American Beer Festival, Brewers Association, Denver CO, judge 2013, 2015, 2016.
Brussels Beer Challenge Judge 2016
International Beer Challenge, London, judge annually 2008-10, table captain annually 2011-16.
World Beer Awards, European and international rounds judge 2012, 2013, 2014, 2016
The Beer Awards judge captain for inaugural event 2016
Killarney Beer Festival Best Beer in Ireland, judge 2015, 2016
Atlanta Cask Ale Tasting, US/UK cask beer competition, invited judge 2017.
Champion Beer of Britain, competition organised by CAMRA at Great British Beer Festival, London, bottle conditioned beer judge 2012, final round judge 2013 and 2014, Southern England heats judge 2016.
Birra dell'Anno, national Italian competition organised by Unionbirrai at RHEX, Rimini, judge 2012, invited 2017
Het Beste Bokbier van Nederland, competition organised by PINT at Bokbierfestival, Amsterdam, judge 2013.
Fuller's Cellarman of the Year, guest judge 2012, 2016.
UK National Homebrew Competition, Bristol, industry judge 2011, 2012 (run to BJCP rules, though I'm not an accredited BJCP judge).
Sainsbury's Great British Beer Hunt, judge in predecessor Beer Competition 2009, guest judge in regional heats 2011.
Tesco Drinks Awards, judge 2007, 2008