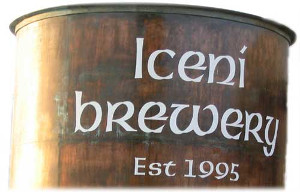 ABV: 4.4%
Origin: Ickburgh, Norfolk, England
Website: http://icenibrewery.co.uk
Date: 26 March 2001
Another review from the archive written for the pioneering Oxford Bottled Beer Database (OBBD). I've left it uncorrected — so please read it in that historical spirit. Iceni is still around, now one of the longest-surviving 1990s microbreweries, though Norvic Ale was retired a long time ago.
This Norfolk micro is well-known for a commitment to bottle conditioning and a flair for unusual and experimental brews. Norvic Ale adds mustard to the list of oddities the more adventurous brewers have been using to perk up their malt and hops in recent years: the rationale is to pay tribute to the city of Norwich, home of Colman's world famous mustard factories, and the name is the name of that city in its earlier Danish form.
There is no indication of how the spice is added: presumably it goes into the boil as seeds. Its presence is not immediatly obvious: the dark golden beer pours with a nice foamy head and the fresh scented aroma is lightly flowery.
The flavour develops well, at first clean and slightly creamy but always dry, then with more tangy tastes emerging, including, arguably, mustard and aromatic lychee-like fruit. A lengthy bitter development finishes the beer, rounding out to a citric tang. Pleasant, without being especially remarkable.